DIVINE X Wines of Argentina
Laura Catena seemingly has it all.  She is a fourth-generation vintner, an emergency doctor, an author, a wife and a mother.  Catena is the Managing Director of Catena Zapata Winery and Founder of The Catena Institute of Wine, taking over the winery from her father.  Catena Zapata, the oldest family-run winery in Argentina, has been in her family since 1902. At 52 years old, she has the pressure of her family's legacy resting on her capable shoulders. She can handle the pressure though.
Catena is humble – giving credit for her success at Catena Zapata to being born into the family.  She is driven by passion, not profit.
"If you look at my life, I've done some great things, but it's always been because I look for great people.  Most great people are motivated by something other than money.  They want to change the world and make it a better place."
She has accomplished so much, yet, when we spoke with her recently, she came across as warm, friendly and utterly egoless.  We learned so much from her, that we couldn't possibly fit it all into one article.  Sit back, and enjoy our two-part interview with our latest subject of #WomenInspiringWomen.
Your father was at the forefront of modernizing winemaking in Argentina.  What pressure do you feel following in his footsteps?  What does winemaking mean to you?
The hardest thing was walking into this family winery, being an expert as a doctor.  I had finished my residency and was working at a top hospital.  I was going into a field where I understood the science, but I was no expert and to top it off, I was a family member.  Immediately, people distrust you or wonder what is your agenda.  But I was able to walk into this beautiful, new profession and continue with my other job.  The only reason is because the guy hiring was my dad.
I never intended to work with my father.  I went to a wine tasting because my father asked me. I also went to France a couple of times with him as a translator because I speak French and he didn't.  I realized that my father had this goal of making Argentine wines that could stand with the best of the world.  A lot of what we heard meant that we needed to study these higher altitude areas and plant in places where nobody had planted before, like the Adrianna Vineyard. There were no vineyards in Gualtallary [northern reaches of Argentina's Uco Valley] before we planted there. My father was told that it was too cold and that nothing was going to ripen there.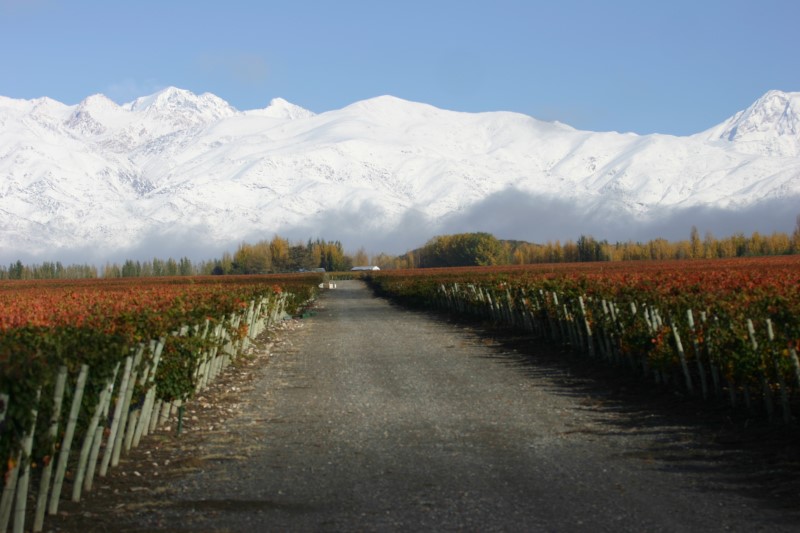 I started working with him, mostly to help him because I thought that his goal was a fantasy. Argentina wasn't even on the radar then.  What my father wanted to do was go straight for the top wines of the world.  The best of Napa, the best of Bordeaux, the best of Burgundy – that's what he wanted to compete with.  My motivation was to help my father and my family and then it became helping my country because I saw how my whole region was transformed.  When I was a kid, Mendoza was a very poor region.  Wine has transformed the whole region economically and has given Argentines something to be proud of.  It's not like we didn't produce wine before, and some of it wasn't bad, but to export your wine and have it stand with other great wines meant a lot to the entire region.
When I came to work with my dad, my first thought was what can I help with?  What skills can I contribute to this impossible goal? My goal of helping my father and my region was a hard thing to achieve which is probably why it was attractive to me.  I like doing difficult things. Following in my father's footsteps was the hardest thing, but not from an egotistical standpoint – that's not my thing.  I'm an action-oriented person and I am happy being in the background.
First, I had to learn.  That's the one thing with medicine – it teaches you that there are so many things that you don't know, and the worst thing that you can do is pretend to know something.  The first thing that they teach you in medical school is if someone asks you a question that you don't know the answer to, just say "I don't know."  If you ever meet a doctor that has an answer for everything, switch doctors.  I came into the business being used to not knowing about certain things and having a learning mindset where I was comfortable about not knowing some things, and comfortable asking questions.
For the first 15 years, all I did was talk about my dad because it was a lot more comfortable and I loved speaking about him.  One day, he told me that he was not planning to travel anymore and that I better start talking about myself and that he would too because I was doing everything.  People need to meet the person doing the work and he told me that I needed to stop talking about him.  My dad is the most lovable, kind, Zen person.  He isn't arrogant.  He asks questions.  He brings out the best in every person.  It was hard in the moments where somebody would show me something that to them was obvious and I literally had to ask them to dumb it down. I think it's a story that a lot of people in a family business have. Most people can accept humility, but they can't accept someone making up the answers. It was hard, but less hard than you may think because of who my father is and because I came from a scientific background where I was comfortable with not knowing everything.
You once said "…it never occurred to me that the world, especially my Argentine world, could be changed and improved one vine and one bottle at a time." In your opinion, what has wine making done for Argentina both locally and internationally?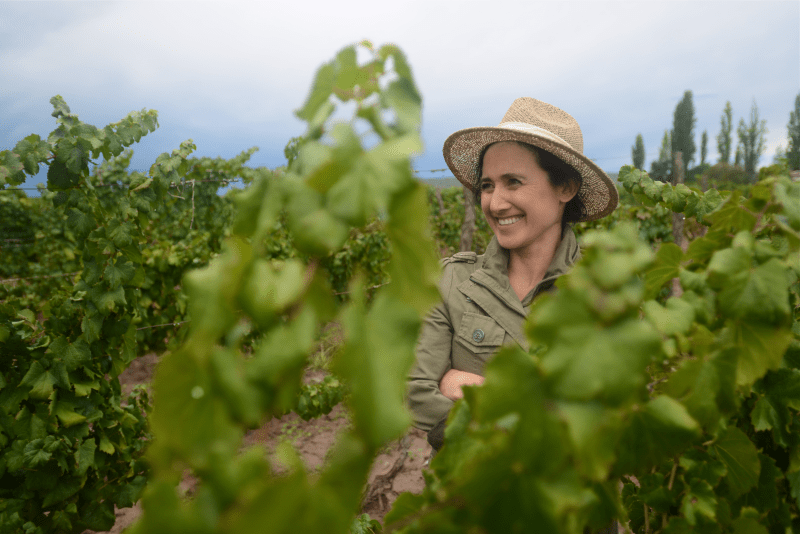 Locally, there is more money.  If there is more money, there are more jobs.  In the old wineries, you didn't need a lot of people because you just put everything in this big tank and you'd bottle it.  Now you need to do precision viticulture (winemaking).  You need experts.  You need a lot of people in the bottling line for quality control.  You need to understand what the world standards are for export.  We have every certification that you can imagine.  We are now playing in the leagues of the top producers in the world.  That's exciting for me. For me, having these high standards and having to achieve them was something that I was grateful for.
My first job was at a teaching institution and I loved teaching.  I love the way young people want to learn and change the world.  We were bringing traditional French wine making to Argentina and changing everything about how we farmed and we had to figure out a lot on our own.  For example, we know a lot more about water management than most people in the world because we have water scarcity.  From a local standpoint, it meant more jobs and more training.
Internationally, when I'm doing a tasting, whether it's Hong Kong or Toronto, an Argentinian will come and ask me to take a message to my father.  It will say that he has changed their life because when they go to people's homes, they can proudly bring a bottle of our wine, a bottle of wine from their country. It's a point of pride for Argentines that we make these great wines.
Science is obviously a big part of your background, and it seems that the Catena Institute is a testament to that.  What role does science have in winemaking and what advantages does your knowledge give you?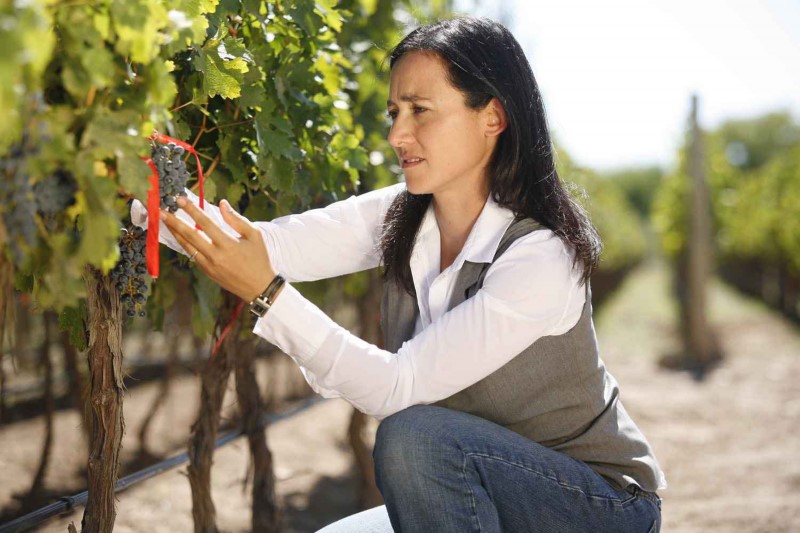 One of the first things that I did when I came to work at the winery was founding the Catena Institute of Wine.  Some of it had to do with the fact that I knew nothing about selling.  I remember asking my dad "What is marketing?"; I didn't know.  He said, "Don't worry, you'll figure it out.  There is one way that you can always win.  Marketing is basically selling well.  If you can make a wine twice as good as the competition, then you don't need any marketing."  We still follow that rule.  Over-deliver on quality and the wine will sell itself.
When we would have meetings with Italian, French and American wine consultants, initially my dad would want to talk to everybody.  We would have one guy say that we needed to remove all of the [grape] leaves to have more light on the grapes.  We are farming at high altitudes, 5000 feet in elevation.  If you remove all of the leaves, your grapes burn and will not make a delicious wine.  Malbec should be made like a Bordeaux varietal.  You can do anything to Malbec because the tannins are soft, where Cabernet Sauvignon tannins are much harder.  We can't always apply what other wine growing countries do because conditions in Argentina are different.
We have been making wine in Argentina since the 16th century, but this high-quality viticulture (wine growing) is new to us, and you have to do research. There are so many people saying that a specific wine tastes like this  because there is limestone soil or this wine tastes like that for whatever reason.  I kept thinking; how do we even know that?  I thought that we needed to apply science to really figure this out.  If we find a really incredible flavour in a specific place, we need to know why so that perhaps we can find it somewhere else.
I don't want to do something and then not know and understand why it happened.  If you have too many variables that change, you never know which was the one that helped.  When you are developing a new region, and with climate change, everybody has to, wineries that are not applying research are not going to be able to survive.  You have to use science to preserve the art.  Science can help you with about 50% of winemaking.  The rest is with the talent of the winemaker.  To me, a winemaker is an artist and they have a lot of instinct.  I love the use of science, but not to the detriment of the art of winemaking.
In 2010, Laura Catena released her first book Vino Argentino: An Insider's Guide to the Wines and Wine Country of Argentina (Chronicle Books). In March 2020, Catena released her second book, Gold in the Vineyards, which highlights the true stories of love, family, betrayal and war at the origin of twelve of the world's most famous vineyards. Detailed maps, infographics and illustrations allow the reader to journey through wine history and into the details of vineyard soil and climate – what winemakers call terroir – in order to understand what makes a great wine. 
Catena Zapata wines are regularly available in Ontario at LCBO Vintages and the winery's flagship Catena Malbec is on limited time offer for $17.95 beginning July 19 to August 15. 
Read Part 2 of our interview with Laura Catena.