Summer time means drinks on the patio and backyard barbeques and parties!   Lighter drinks, like spritzers are more refreshing and beat the heat.  We love how the crisp apple, sweet honey syrup and the bite of the tequila all work to make this cocktail the perfect drink for hot nights.
(ABV 8.7%) Calories per serving: 165
Ingredients:
1 oz. silver tequila
1/2 oz. honey syrup (optional)
6 oz. Strongbrow Rosé Apple
Splash of club soda
2-3 dashes of orange bitters
Mint sprig for garnish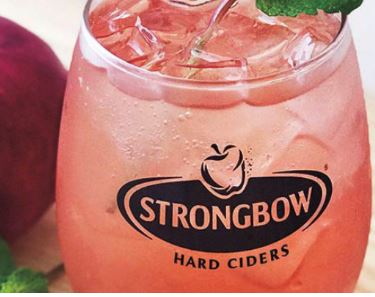 Directions for honey syrup: combine equal parts water and honey over the stove or in the microwave until heated and the honey is a pourable consistency.  In a mixing glass filled with ice, combine the tequila and honey syrup.  Add the Strongbow Rosé Apple and stir briefly.  Pour contents into a chilled glass filled with fresh ice, top with a splash of club soda and add 2-3 dashes of orange bitters and garnish with a mint sprig.